I was on a healthy path. Vinyasa yoga, gluten free muffins and power kale drinks at Whole Foods were the standard formula of well being for the past two weeks. I was beginning to wean off my electric cigarette filled with Tiramisu-flavored vapor. I'm feeling fantastic!
Then came the downward spiral. A fellow sci-fi freak friend of mine complimented my new hair color and suggested my previous blonde streaks were transforming into Evil Doll Chucky orange. The image was horrific. Not the lack of toner in whatever mix the hair coloring alchemist stirred up, but the idea of a doll. A demonic doll. One with blue sparkle eyes with bent plastic lashes, a weapon in hand bursting through cellophane scurrying through Target aisles attacking women in lavender capri pants. Suddenly, it's funny. The little missing chip of ceramic on its forehead forces a nervous giggle. Images spring forth. Clowns, puppets, and haunted dolls in creaking attics from film scenes formulated.
(No one would pick on HIS color.)
Sarasota has been home for almost two years now. After a stop at The Hob Nob Diner, I realized far too much time had passed, and it was time I step into
Video Renaissance
.
For months, the buzzing swirled around me of this local gem that carries every film imaginable as well as owner,
Bill Woolridge
's vast knowledge.
"We need to rent the new Mission Impossible," my husband suggests.
No, we don't.
And no to Thor and no to Predator vs Alien.
I had a list going two weeks ago of films I wanted to watch again: High Art, The Pillow Book, and Harold and Maude. However, a giant set of shears seemed to snip that cinematic list like severing a marionette as you watch it drop to its wooden knees.
I want creepy strange movies to go with my splurging of pretty sugary
Lollicakes
. A new list forms:
Trilogy of Terror, Puppet Master
and
Magic
.
When it comes to Horror, I turn to my friend
Tom Piccirilli
. Tom is the author of more than twenty novels including
The Last Kind Words
,
Shadow Season
,
The Cold Spot, The Coldest Mile
and
A Choir of Ill Children
. He's won two International Thriller Awards and four Bram Stoker Awards, as well as having been nominated for the Edgar, the World Fantasy Award, the Macavity, and Le Grand Prix de l'Imaginaire.
His thoughts on my selections? "The first Puppet Master film was good old-fashioned schlocky fun. The sequels grew progressively more muddled, flat, and unfun. Prey from Trilogy of Terror, written by the great Richard Matheson, remains a fave. It scared the hell out of me when I was seven and can still give me chills. Karen Black really gave her all to that performance, and the little sharp-tooth Zuni doll is instantly identifiable by anybody in my age bracket."
1. Trilogy of Terror (1975) - "Prey". Had to be my number one. In 1975, Karen Black shared the screen with an evil tribal doll. This film still terrifies my husband and he won't watch it. Amazing isn't it? How the footage of charcoal smoke belching out of an oven as the demon doll is engulfed in flames. The screeches and wails stay with you thirty years later. As a former flight attendant, Karen Black is a personal hero of mine. Secretly during flight attendant training we would reenact scenes of hers from Airport '75. Yes, that one. ("There's no one left to fly the plane!"). But, that co-star of hers in Trilogy of Terror... Oh, dear. She's safe until his golden safety chain snaps. He bares his white razor teeth as his frenzied arm sways manically at her legs with a knife. Horrific! ... Oh! It's as horrific as I remember it as a child. And, I love it as I pop open another packet of ketchup to spray over my french fries.
(Spoiler Alert: If you don't want to see how it ends, avoid the final minute.)
2. Puppet Master (1989). The Puppet Master franchise has a serious cult following. The original was directed in 1989 by David Schmoeller and written by Charles Band and Kenneth Hall. Later, it spawned nine sequels. The original was brilliant, and I joyously admit I found these little wooden soldiers from hell were kinda funny and cute. Well, not Pomeranian or baby Panda cute. More of an amusingly creepy-strange cute.
For example, this little guy ,"Tunneler", conjured up fears of shop class in high school.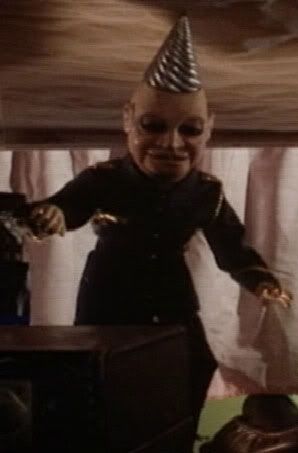 3.
Magic (1978) -
Prior to Hannibal Lecter, Anthony Hopkins portrayed magician, Charles "Corky" Withers in the 1978 psychological horror,
Magic
. Directed by Richard Attenborough and along with a stellar cast including Ann-Margret and Burgess Meredith, we witnessed how a puppet can deliver a psychotic horror of displaced identity. I separate this film from my prior two choices as a masterful film that I find little to laugh at. Perhaps, a terror stems on the believable nature that one could truly transfer their psychosis through an object. This could happen to anyone we know - your average guy. There lies a greater threat. Erving Goffman's
Presentation of Self in Everyday Life
comes to mind, with the display of human nature and the multitude of "masks" we operate in - on stage and off.
My stomach was full and cravings met. Perhaps the next list of rentals will be lighter. Perhaps I'll be back on green drinks and holding plank for twenty breaths. Who knows what sarcastic text message from a friend will hatch a new list before I venture back into Video Renaissance. Walking through the collections and shelves, the movie lover in me was overwhelmed with the most amazing selections they offer. I barely scratched the surface.
Welcome to Cinematic Heaven, Robin.