My mother and father met through horses. I was fortunate to grow up with parents who were not only visual and performing artists, but also shared the love for this amazing animal. Vividly, I recall how I drew giant Arabians on my bedroom walls with a pencil. Regardless of what was happening in my life at that young age, I would return to my room, gaze up... grab the pencil and build upon the muscles in their legs and sharpen the eyes rolling back to me. Somehow I visually lifted myself onto their backs to remind myself of what the horse embodies : Freedom, Movement and Power. This captivating dance between man and horse has been recorded in art over centuries. With breathtaking grace combined with power, this magnificent creature is unlike any other. I continue to honor them in my artwork today and when I can, I drive out to ranches in Myakka to be in their presence. Wrapping my arms around them to recall how they lifted me during my childhood. We have much to learn from them and I believe we must honor them. How could I not write on the artistry of Cavalia?
Mystical and dreamlike are words that come to mind when describing the artistry of
Cavalia
. The Montreal-based company presents large scale equestrian and performing arts productions. Cavalia has produced two shows:
Cavalia, A Magical Encounter Between Human and Horse
and
Odyssea
.
Cavalia
I recently spoke with two women who have been involved with both shows, Alethea Shelton and Veronica Turner.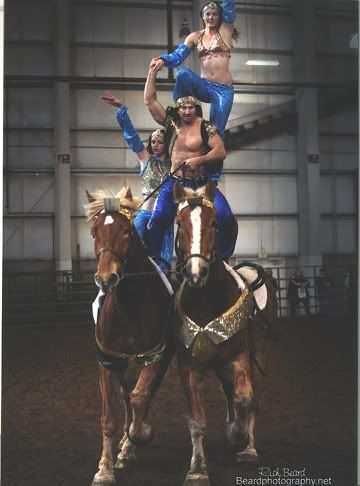 Alethea Shelton of Big Horse Productions (Las Vegas).
RobinP: How old were you when you started riding?
AletheaS: I started riding at 10 years old. My mom remarried and my stepdad had Arabians. I was terrified to even be around them at first!
RobinP: When did you begin work with Cavalia? Tell us about this experience. You also were involved with the creation of the show, yes?
AletheaT: I moved out to Colorado when I was 20 to begin working with my partner Erik Martonovich. We used to compete in the sport of vaulting and decided to start
creating our own acts without the limits of rules. We started performing with our company Big Horse Productions all over the country. Cavalia was about to
begin their creation and showed interest in us, so the producer flew to Denver to see us perform. From there, we signed contracts and moved to Quebec to begin
the 3 month creation of the show.
RobinP: I know on the main site, they have listed the care of the horses. What can you elaborate on and share?
AletheaS: They take care of their horses very well in Cavalia. Each horse has time to be turned out and socialize, and in between the cities they get to relax. In my
experience, horses would rather have a purpose and the fact that they are working makes most of them happy. You can run into problems of them getting
bored with a routine, but the trick is to keep things changing for them. I have never seen any problems in the way horses are greatest there. To me, its
all about them!
RobinP: What is your favorite breed of horse? Is there one breed that you find personally favorable to ride?
AletheaS: Well if you have ever seen what I do, you will know that I prefer Belgians! Draft horses are a much better base for the stunts and tricks that I perform .
The Belgians in particular are my favorite because they have wonderful gates and are super smart! In general, they have a great temperament and are full of
personality.
RobinP: Knowing the union of animal and human, which I am sensitive to.. tell me of this extraordinary exchange you have experienced over the years. Is there one or
a couple that truly stand out to you?
AletheaS: There are plenty! I have had many falls where my horses have done all they could to avoid stepping on me. They always seem to want to make me happy and always seem so willing to do their jobs. When we start the truck with the trailer hooked up to hit the road, they always surprise me with how excited they are, then jump right in the trailer. I feel they love to have a purpose and on top of that so much loyalty. Moreso than any one experience, I feel this connection as an everyday ongoing love. Getting to know and love each of their individual personalities makes all the hard work worth it. I believe in the end, the connection is really what its all about.
RobinP: You left Cavalia and now you have created your own production show-

Big Horse Productions

. Tell us about it!
AletheaS: Well, Big Horse Productions is about to embark on a new adventure and we are leaving Vegas! We are creating a national show with our horses that will be seen by the public in November. I'll be able to release more details later, but it is the biggest project we have ever worked on and we are really excited about it!
Cavalia - Odysseo
The newest Cavalia production, Odysseo just finished performances in Miami, Florida. Currently they are preparing for the premiere in Toronto, Canada on May 15, 2012. Veronica Turner is one of the performers in Odysseo. I recently spoke with Veronica to inquire even further about this amazing experience.
RobinP: Which came first for you... horses or performing?
VeronicaT: As very young kids my twin sister and I would dress up in dress up clothes and make up plays or sing! The horses didn't come until we were about 8 when our mom signed us up for riding lessons. As we got older this became our passion.
RobinP: How did you come on board with Cavalia's second show - Odysseo?
VeronicaT: Erik Martonovich and Alethea Shelton ( our vaulting coaches at the time) were in the first show, Cavalia. In 2003 we flew up to Montreal to watch them and fell in love with Cavalia. That became our dream, to be in the show. Over a time of seven years, we sent in resumes, letters, promotional videos, and auditioned twice. In November of 2010 we auditioned for Cavalia while it was in Denver and got accepted for the first show. We spent a week and a half in San Francisco with Cavalia until the equestrian director Benjamin Aillaud offered us to join in the creation for Odysseo. We drove Sutton Quebec, and spent ten months in the creation process.
Veronica and Charly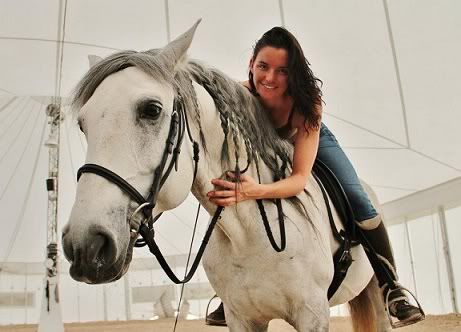 Veronica and Traje
RobinP: I read that during training, the horses have freedom to be natural and play on stage. How much so?
VeronicaT: The horses are given their freedom to do as they wish in training and the show. As herd animals, horses like to be close to their herd. They will run off and enjoy freedom, but in the end they want to come back to their herd. In Cavalia and Odysseo, humans don't ask the horse to act/communicate like a human, but we as humans communicate to them in their language. The horses are given complete freedom to do as they wish, so in the show it is normal to see a rogue horse or two enjoying their freedom. Its a working partnership between human and horse and is treated as such, both in training and on stage. The horses do everything because they want to.
RobinP: The beauty of the company is expressing the union of the horse and man, but also honoring them and their spirit. Tell me of some amazing emotional encounters/ exchanges you have had with a particular horse.
VeronicaT: One of my personal experiences, is with a draft horse named Charly. I began working with the horse in Sutton during creation. He is young, only 6, and still very much a baby. When I began working with him, he was very new to the show and was a very angry horse. Before Charly came to Cavalia, the horse had never been worked with as a partner and had learned to hate humans and any work involved with them. The tour didn't want to bring Charly because of this. But over the eight months of creation, Charly and I worked morning and night to build a partnership. Through many presentations, we convinced the tour to bring Charly. Charly was in the show all through Atlanta in the "Ballet Des Gros" act. I fell in love with this horse and since the horse is no longer needed on tour, I offered to buy Charly. I am now very, very lucky to have him. I have known many horses in my life, but have never felt such a strong partnership with one as this.
RobinP: Do they sometimes get a bit rambunctious and silly during a show? Like stealing a bite or nibble at someone? (I know some actors that do!)
VeronicaT: Every show is different because the horses have their freedom. Some nights you will see a couple of them in the "Grand Liberty" acting like school kids on recess playing with each other, or taking a solo gallop around the stage. The African drums number has a white horse named Numerario who does a solo liberty act with trainer and rider, Antoine Romminoff. For this act EVERY night is different and has all of us backstage laughing! This horse even runs to the ring curb and stands on it on his own accord to get a applause and loves every minute of it. They all have their own personalities and will goof off from nibbling someone's costume or hair, to upstaging everyone on stage by doing their own thing. Every night changes, so as riders and trainers we just go with it.
RobinP: There are amazing breeds in this company. Do you have a favorite you like to work with?
VeronicaT: It really depends on the horse and what discipline we are training. Every horse is trained in multiple disciplines. Even the drafts are trained in dressage. My favorite for the dressage riding is my Lusitano, Traje. I have been very lucky to work with the Equestrian Director, Benjiman Aillaud with riding. Ben is an amazing rider and trainer, and he really makes riding look like an effortless dance. Riding Traje, I really feel what it is to ride in harmony and balance.