Growing up in the 70's, my interests consisted of feathered hair, lip synching to The Runaways and Espionage. Films such as Bear Island, Marathon Man, Boys from Brazil and The Eagle Has Landed became a part of my youth as my mother took us to these films. An early introduction to cloak and dagger in storytelling only created an appetite for such gritty plots, multi-layered characters battling societal structures of what we define 'the norm' up against those operating behind the scenes in a political arena in conspiracy thrillers. A genre that is still near and dear to my heart. As a kid in the year of 1974, if you weren't crying while seeing Benji, you were confused by your parents horrific facial expressions when a Nazi SS dentist leans in to torture Dustin Hoffman with, "Is it safe?"
I first heard of The Girl With The Dragon Tattoo a just a year ago. I was puffing away on my electric cigarette and reminding myself that I need to get back to the joy of reading nonfiction. Two friends were discussing Stieg Larsson's "Millennium Series" which consists of three books (The Girl With the Dragon Tattoo, The Girl Who Played with Fire and The Girl Who Kicked the Hornet's Nest). Main character Lisbeth Salander is genius hacker with photographic memory, socially remote and chilly after a childhood of some heavy duty torment. Eventually she starts working with Mikael Blomkvist, a crusading journalist, to solve a murder that took place over forty years ago. Toss in some sex trafficking.
Yikes. "Oh yeah, it's dark," one of my friends informed me. I remembered seeing the titles at a Red Box of the three Swedish films. My interest was beyond piqued and I ran out that night and grabbed all three DVDs and watched them in one night and found them brilliant. I figured I would hold off on reading the books until months later, I would find out the US version would be out. A week before the opening of the US version of Girl With The Dragon Tattoo, I bought the book and read it that night into the next day. I couldn't put it down. Later, a friend would meet me to feed my fix by loaning me the second (The Girl Who Played With Fire). Tore through that one just before the opening December 21st of this past year.
The trailer floated around on Facebook. With David Fincher directing and joinging forces again with cinematographer, Jeff Cronenweth. Previous works of this team include The Social Network, Se7en and Fight Club. I became even more excited. Not to mention the calibre of the casting with Daniel Craig, Rooney Mara and Christopher Plummer assuring me this is going to be good.
Several things were essential to me before seeing the film. I refused to go into it comparing it too much to the book. Reading a book is an entirely different experience than watching a film. Operating in how we digest plot, and character through words on a page as opposed to visual language created before us on the screen. Comparing it to the original Swedish films was out of the question as well. Though, I dearly love Noomi Rapace in the role of Lisbeth, I wanted to go into this US version clean and accepting. It's quite a role. As a professional actress over the years, to get such a character filled with so many hues and layers to explore and work with is a dream. The marrow of the character is so rich that naturally, several actresses with the chops could bring this character to life with their own range. Different? Yes. Both worthy? Absolutely.
After a slew of thriller previews, nestled in the theater seat with popcorn in hand, the opening sequence started I knew I was in for a hell of a ride. Screen goes black and images form with tones of navy and movements of liquid. Splashing perfectly edited images thrown at you for "The Immigrant Song" by Led Zeppelin (remade by Trent Reznor and Karen O.) The orchestration upon my eyes and the heart-rushing musicality were almost reminiscent of a Bond film. Yet, much darker and twisted. I caught myself off guard drumming up the word "sexy". Sexy? Huh.Then, I considered Fincher's approach to the issue of sensuality and the psyche of Lisbeth. A parallel to her character, it's unnerving, dark, and strong and yet you can't turn away from the attraction found in her utilizing these debilitating tones of her past to embrace her power and sense of survival. This opening sequence gave me that feeling when you are locked into the seat of a roller coaster and in the first few minutes... there is clanking, clanking, clanking to the first hill that you will throw you into a death defying plunge.
My hands scrambled into my purse in the dark. Crap, I lost my electric cigarette. Cigarettes are lit so often in the film, and everyone's drinking black coffee. Don't take the weekend off from your vices if you plan to see this film. Daniel Craig is dreamy and looks handsome in a bulky H&M sweater. Wide angle shots of snow covered cobblestone of the romantic cottages and open fields. The cinematic tones of the film change course in feel of the film as do the changes in vulnerability, quiet ease of the countryside of the Vanger estates. One moment, you desire a late night scotch at sunset with Christopher Plummer and the next moment you're squirming and covering your eyes from a novice with a tattoo gun.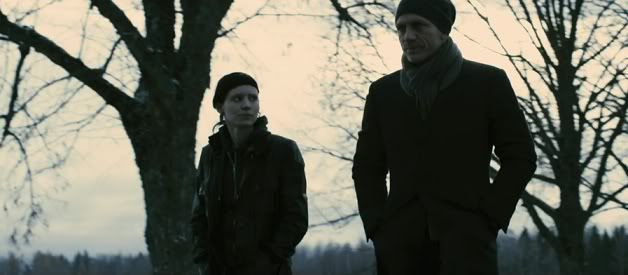 It was a visual and cerebral feast. Personally, the elegance and beautiful shots composed by Jeff Cronenweth were the star of the film. Reflective and hauntingly still at moments. Promised warmth. A fragrance of uncomfort in sterility of a modern architecture condo to the dynamics of family secrets revealed through holy scripture.
I found myself in a "Dorothy Moment", pulling Toto in closer. I don't think we're in Sarasota, anymore. Comparisons taunt me again. Honoring the book beautifully and yet the details of it all still elude me. Isn't that we do at times? Struggling here at my laptop with the mechanics of it all, while reaching for that demon tube of faux nicotine, I gave up. Why did I find it good? I had to ask myself the usual. What is it that I truly desire to experience from great art? I desire to go to a book, a painting, a film or any art form to experience the echo that resounds from it. To walk away with the echo of something art produces which I carry away with me after the last chapter of a book or hours after I've left the theater.
We tend to stifle and muddy the potential of how we may experience art. For each medium, diverse from the other, unique in its own temperament are liberated from our sense to give it a heirarchy. It is the mystery and beauty of art when more than one medium can produce that echo. Equality among them all is then found. For they have done but one thing. They told a great story.