I'm not sure if you follow upcoming movie musicals, and really why would you? You have me for that sort of thing. But on the chance that you are a fan, you've surely heard the
recent announcement
that Anne Hathaway has been confirmed to join previously announced Hugh Jackman and Russell Crowe in the long-awaited big screen adaptation of the musical
Les Miserables.
(I guess the term "long-awaited" is subjective. Drama queens and theater geeks from way back have been waiting for their beloved musical to grace the big screen, while some of you haven't heard that title since 10th grade English class.)
Movie musicals are dicey for big Hollywood studios these days. Where Dreamgirls and Chicago may have encouraged movie producers, the poor box office showing of both Nine and Burlesque may have deterred the big wigs. Sure, the big screen adaptations of Hairspray, Sweeney Todd, and Mamma Mia! met with varying levels of success, but when it comes to the word "success" in Hollywood, producers don't like the term "varying."
One thing that Hollywood seems to realize is that for a movie musical to have a chance at success, it needs to boast some star power. Consider this upcoming Les Miz. Each of the three aforementioned stars is at the height of their box office appeal. But let's have a little fun looking at their vocal skills.
Anne Hathaway
Before her breakout role in Princess Diaries, Anne starred in a New York City Center production of Carnival!, wowing audiences with a beautiful soprano voice. That cat is now very much out of the bag, especially after her co-host stint at this year's Academy Awards, where she sang a parody of Les Miz's "On My Own" to her soon-to-be co-star Hugh Jackman. (Foreshadowing, anyone?)
But before her coffee-fetching in The Devil Wears Prada and booby-baring in Love and Other Drugs, Anne channeled her inner-Freddie Mercury in the modern fairytale film, Ella Enchanted. Check her out.
Hugh Jackman
Another one who hasn't necessarily kept his singing voice under wraps, Hugh has managed to pull off the near impossible: starring on Broadway as a gay and glitzy song-and-dance man while simultaneously rocking the big screen as a badass action hero. And doing both convincingly well! I would even go as far to say that Hugh made singing and dancing cool again.
So you've undoubtedly seen Mr. Wolverine lead many a musical number at a live televised awards show, much like Ms. Hathaway. But did you know that before he was popping claws out of his knuckles in X-Men, Hugh was leading the London revival of Oklahoma! Now you do...
Russell Crowe
This was the one that had me stupefied. Am I the last one to find out that this Aussie bad boy played guitar and sang in various Australian Rock bands throughout the '80's? Go ahead. Go to YouTube and search "Russell Crowe band." Who knew? And apparently I wasn't tuned in to the Country Music Awards the year
he performed.
But the true pre-Gladiator gem I uncovered on Mr. Russell was a 1988 appearance in an Australian production of The Rocky Horror Show. Playing the dual roles of Eddie (the Meat Loaf character) and the wheelchair-bound Dr. Scott, I give you... Mr. Russell Crowe!
So those may be the three stars of the upcoming Les Miserables, but what other actors have been harboring secret skills?

Catherine Zeta-Jones
Mrs. Michael Douglas surprised movie audiences (and took home an Oscar) for her singing and dancing in 2002's Chicago, but London audiences were already familiar with her skills. At age 19 (long before she became the American film siren,) she starred in a London production of 42nd Street.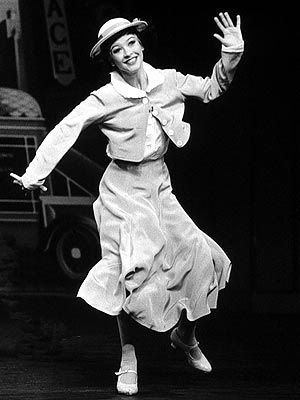 (Photo credit: John Evans/Retna)
Amy Adams
She's preparing to play Lois Lane in the upcoming Superman pic Man of Steel, but Amy was a dinner theater hero in Chanhassen, Minnesota. It's probably no surprise to those who heard the Oscar-nominated actress sing in Disney's Enchanted. Anyone with any doubt that she can hold her own against Superman clearly hasn't done dinner theater!
Richard Gere
Sure, he joined Ms. Zeta-Jones onscreen in Chicago, but Richard was a London theater star himself. He starred in the 1973 West End production of Grease, after appearing in the original Broadway run. So it would seem that before becoming an Officer or a Gentleman, he was in fact... a T-Bird.
Jesse Tyler-Ferguson
You probably know him as the uptight Mitchell on ABC's Modern Family, but Broadway audiences had claimed Jesse as one of their own. Most notably, he played a cape-wearing home-schooled contestant in The 25th Annual Putnam County Spelling Bee.
Emma Thompson
Who knew that Nanny McPhee was hiding a stage career? Before she married (and divorced) Kenneth Branagh, she played the female lead in the old British Hall musical, Me and My Girl.
Tracey Ullman
The FOX network launched in 1987 with the cynical sitcom Married...with Children and the musical sketch comedy The Tracey Ullman Show. (Since I'm so full of trivia these days, did you know that The Simpsons debuted on Tracey's show as short fillers?) Tracey displayed comedic skills, alongside some occasional song and dance.
Tracey eventually took on HBO, but in 1983 she had a hit single with "They Don't Know" which was #8 in the U.S. and #2 in the UK!
Eddie Murphy
He kept up with Beyonce and Jennifer Hudson in 2006's Dreamgirls, but that wasn't Eddie's first time laying down tracks in the studio. Eddie had a #2 Billboard hit in 1985 with "Party All the Time" by Rick James. (Watch for Rick in the music video.)
Jean-Claude Van Damme
"The Muscles from Brussels" as he was known in the '90's, was an action film star. He was able to pull off those roundhouse kicks onscreen because he had a foundation of classical ballet. That training may also explain those fine moves he demonstrated in the background of 1984's Breakin'. (Yes, that's really him.)
As we reminisce about movie stars' hidden talents, it would only be fair to take a look at a few stars who maybe should've kept their talents hidden.
Remember when Roseanne Barr (slash Arnold) sang the National Anthem? Unfortunately, so do I.
You wanted to give Pierce Brosnan an A for effort when he signed on for the movie version of Mamma Mia! Especially when you knew he'd be sharing the screen with some Hollywood actors who impressed us with their voices (Meryl Streep, Amanda Seyfried, Christine Baranski.) But the minute poor Pierce opened his mouth, audience members laughed. And never looked at James Bond the same.
I'm confident the Les Miz actors will fare much better.